RIP Mom Poems: Funeral Poems for a Mother's Death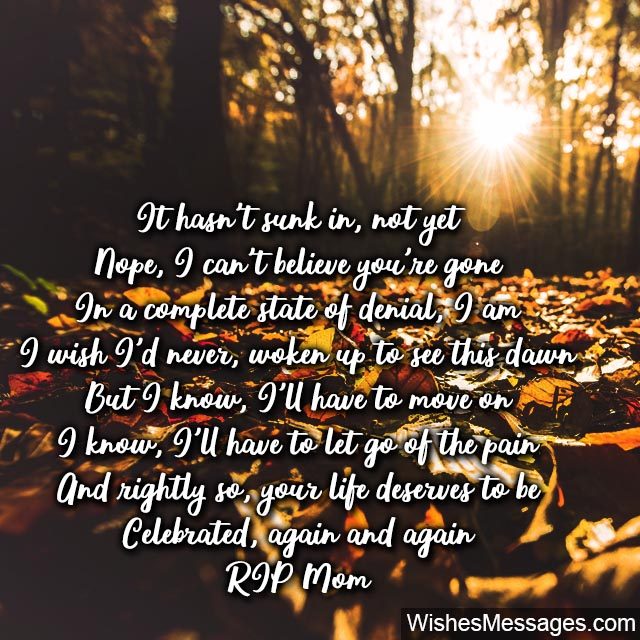 RIP Mom Poems: Death is painful and there's no such thing as a perfect goodbye, especially when it comes to a mother, the woman who gave birth to you. There's no way you'll ever be able to express neither at a funeral nor to yourself, the sadness is too deep to be put into words. We crafted this post to help you grieve… to help you understand your feelings and to help you remember what a beautiful, strong and amazing woman she was. Read on and engulf yourself with all the memories – from the times she sacrificed it all to the moment when she had your back. To all the sons and daughters our there – she wasn't just your mother, she was your best friend. She may be gone, but everything she's done will be a source of inspiration and motivation for the rest of your life. In life, many people will come and go… but no one like her. RIP ma
1) It hasn't sunk in, not yet
Nope, I can't believe you're gone
In a complete state of denial, I am
I wish I'd never, woken up to see this dawn
But I know, I'll have to move on
I know, I'll have to let go of the pain
And rightly so, your life deserves to be
Celebrated, again and again
RIP Mom
2) Sacrifices that had no end in sight
You made, without flinching an eyelid
Even when I went beyond our means
My smiles and happiness, you never forbid
Oh, the things you've done for me
Where did you find the energy to
If I had to live my life all over again
I'd want no one else but you
RIP Mom
3) You pushed me to be the best I could be
Even when life was heaving down on you
Where did you ever find this strength
To not just keep fighting, but motivate me too
Courage, happiness, smiles and hugs
Are just a few things, that you never had in short supply
Such an inspiring legacy you've left behind ma
I'm smiling wide today, as I look to you up in the sky
RIP Mom
4) You felt my anger, you heard me lie
You watched me let you down
You allowed me to go beyond your means
Even if your smiles disappeared into frowns
Mom, I don't deserve to be the one
To give you the final goodbye
Yet, here I am, regretting all these years
That I made you sigh
Not all is lost, I know you'll be watching
So picking up the pieces I am, starting today
Going to live a life, worthy of a mom like you
I'm gonna make you proud ma, in every way
RIP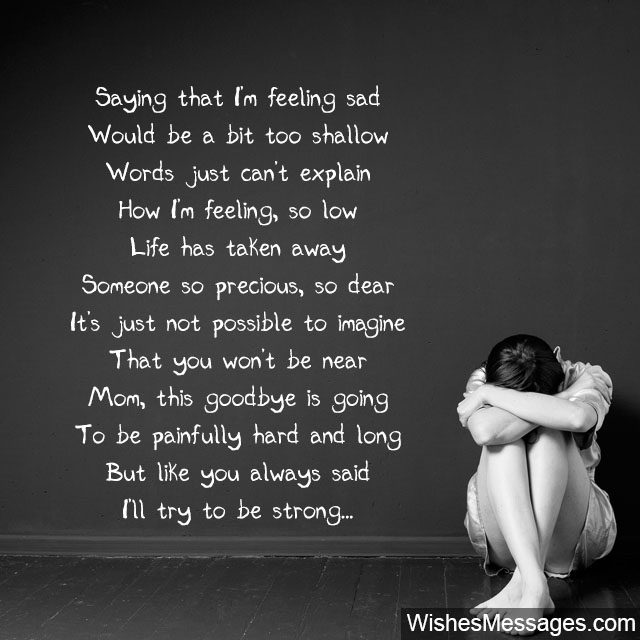 5) Saying that I'm feeling sad
Would be a bit too shallow
Words just can't explain
How I'm feeling, so low
Life has taken away
Someone so dear
It's just not possible to imagine
That you won't be near
Mom, this goodbye is going
To be painfully hard and long
But as you always said
I'll try to be strong
RIP
6) A fighter, since day one
A survivor, till the very end
Not just a mother, you
Were my life's best friend
My needs before yours
Always, it seemed to be
Words cannot be enough
For what you've been to me
RIP Mom
7) I don't know why
But I just can't stop crying
I could fake it, to appear strong
But then I'd just be lying
Never, ever, have I gone through
A pain in my heart, so strong
Is this fair, I ask myself
Why me, this is so wrong
But as the cacophony in my mind subsides
Giving way, to a realize that you are
In a better place now, away from the suffering
With me in spirit, close but yet so far
You might be here, no more
But you're listening, that, I know
I'm trembling, as I reign in my thoughts
Never, have I ever felt this low
I love you ma, RIP
8) I should be sad and heartbroken
But honestly, I'm not
Yes, you've been taken away
But it'd be selfish, if that was my thought
The things you've been through
You've endured, suffering and pain
No matter what I feel, there's no way
I'd want you to go through that again
The heavens have spoken
The angels decided, it was time to go
I'm sad, I'm heartbroken… but in a better place
You are now, I know
RIP Mom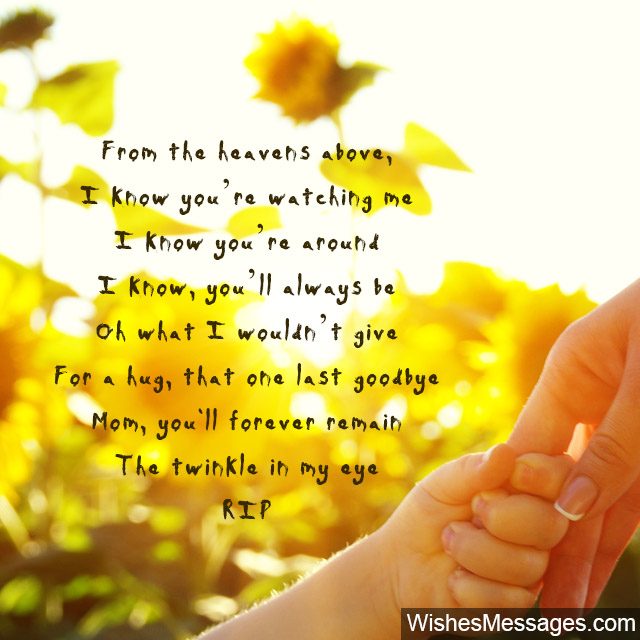 9) From the heavens above,
I know you're watching me
I know you're around
I know, you'll always be
Oh what I wouldn't give
For that one last goodbye
A hug so long it'd never finish
Mom, forever, the twinkle in my eye
RIP
10) On one hand, I'm feeling shattered
Lost, like a little abandoned puppy
But on the other, I'm feeling at peace
Knowing you're resting, away from the misery
As much as I, suffocate in this shock
Deep down, I know you're in a better place
Life without you, I just cannot imagine
But at least, there's no pain on your face
Rest in peace mom
11) When I was young I always believed
That once I got a job and moved out
I'd be independent, no need for family dinners
I'd be free, there was no doubt
Oh, how wrong was I
Yes, the first few years were liberating
The notion of freedom, was short lived
After that, the loneliness kicked in
Soon enough, I realized
All the freedom was absolutely worthless
If I didn't have you to share it with ma,
I realized, your hugs were truly priceless
You are finally resting now, ma
But your voice, I will forever in my head hear
It'll guide me through life, day after day
Reminding me how we are so far, yet so near
RIP mom
12) Never giving up, no matter what life threw
Fighting like a warrior, even when all odds were against you
Sometimes I even wonder how you, put up with me as a teen
A strong woman, like you I've never seen
Just sitting and watching you live your life, has taught me a lot
Learnings and inspiration such, from any book I'd never have got
I may be crying right now, but from within, a deep sense of satisfaction engulfs me
Thanking fate, for letting me grow up with the world's best mommy
RIP Mom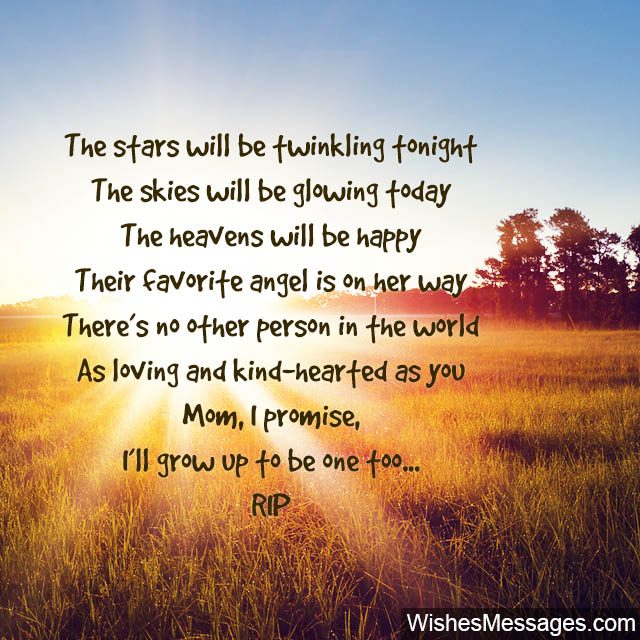 13) The stars will be twinkling tonight
The skies will be glowing today
The heavens will be happy
Their favorite angel is on her way
There's no other person in the world
As loving and kind-hearted as you
Ma, I promise,
I'll grow up to be one too
RIP
14) When it came to me
You made weak feel strong
You made doubt disappear
You made me make rights, my wrongs
Such a motivation you've been
Every single day of your life
I know who to look up to
When I go through strife
Not just a mother
A true inspiration, always and whenever
Death means nothing to me
In my heart, you've living on forever…
15) Through the toughest of times
You kept the ship steady
If there's one thing I've learnt from you
It is to stay strong and happy
From the deepest corner of my soul
I'm shivering, as I say my final goodbye
Thinking of the memories, can't help but
Break into a smile, even as I cry
Maybe I'll never be able to accept
That you're gone, maybe I don't want to
A part of you will always be here ma
Right here, in my heart which always belonged to you
RIP Mom
16) Numb, I've gone from within
Shattered, broken and sore
Maybe the angels decided that need you
But mom, I needed you more
Lost, I am without you
No one will understand my pain
Rest in peace, mom, for one day
We will meet again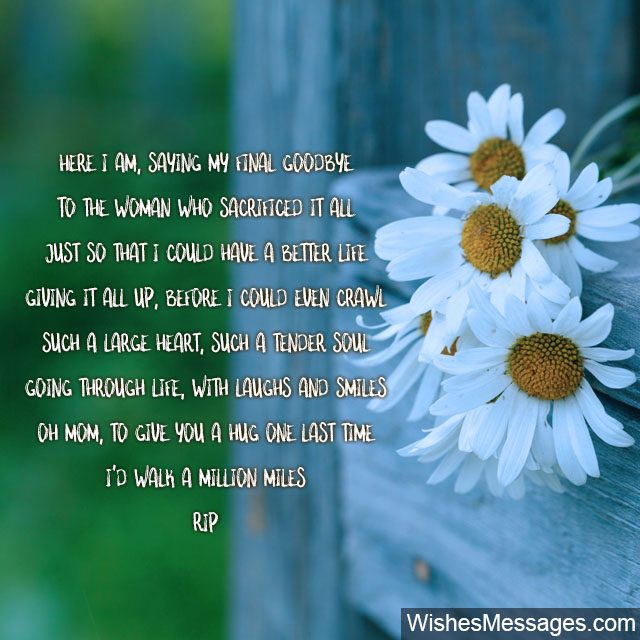 17) Here I am, saying my final goodbye
To the woman who sacrificed it all
Just so that I could have a better life
Giving it all up, before I could even crawl
Such a large heart, such a tender soul
Going through life, with laughs and smiles
Oh mom, to give you a hug one last time
I'd walk a million miles
RIP
18) In one life, it seems like you've lived a hundred,
Juggling work, family and everything that was thrown at you.
It wasn't easy, I could see as I sat on the sidelines,
You could barely keep up, yet, you continued to push through.
From where you got all this strength, I'll never understand,
How you kept up with the chaos, no one will ever find out.
No one will have as big an impact as you've had on my life,
Of that, there's no doubt.
RIP mom
19) Off to the heavens
With a smile on your face
From pain, I seek solace
Knowing that you're in a better place
Finally resting, finally asleep
Free, from all the pain
Missing you now, missing you forever
RIP Mom, until we meet again
20) Refused to accept that you were gone
Angry, at the heavens for taking you away
In denial, that I could never get a hug from you
Cursing life endlessly day after day
My state of mind, that was
Since the moment you left us
Coming to terms with reality
Was like being hit by a bus
As it sinks in, I realize how fortunate
I've been to have you as my mother
Life will go on, but an angel like you
There will never be another
RIP Ma